Jeffrey Smart has often felt betrayed or abandoned by Australian art museums. An investigation promised to the Art Gallery of South Australia in 1982 did not materialize but was saved by the Art Gallery of NSW. When Australia's National Gallery opened that same year, he attended the ceremonies but was disappointed with its paltry performance.
For Smart, it was clear that Adelaide, her hometown, would never give her job a chance. And just as clearly, the Conservatives in Canberra and elsewhere in Australia had supported it. Was it just paranoia? Sour grapes? Smart felt he was paying the penalty for swimming against the tide. He had no interest in Australiana associated with artists such as Nolan, Boyd, Tucker and Olsen. He had no sympathy for the abstract and conceptual art currents that dominated the 1960s and 1970s.
Resolutely figurative, he was a painter of the modern and urban world, not of the bush or the mythical past. A typical Smart painting could have taken place in Italy (where he lived for over 40 years) or Australia. His images were cold and slanted, devoid of obvious emotion. Art institutions may have found him old-fashioned and reactionary, but audiences have always loved his work.
Jeffrey Smart, which premieres this weekend at the National Gallery of Australia, as it's now known, is an exhibition that could have won the artist's approval. Hooked thematically rather than chronologically (which seems to be the case with the entire NGA right now), this is not a full retrospective. This is, however, a better and more thoughtful display than the highly successful Smart Investigation held at the Art Gallery of NSW in 1999. Even with COVID-19 travel restrictions in mind, the NGA is expected to have a hit on them. hands.
Loading
While he may have struggled to impress Tories, Smart has always had staunch admirers. His work has become a part of Australian popular culture, in part due to its frequent appearance on the covers of books. Once seen, his photos are rarely forgotten, and the chance to see over 90 of his paintings will be a great reason to visit Canberra during the summer.
The overwhelming impression one gets from this show is how incredibly fresh it looks. Eight years after his death, at the age of 93, Smart emerges as an artist who has freed himself from the incessant succession of schools, fashions and movements that characterize the modern era.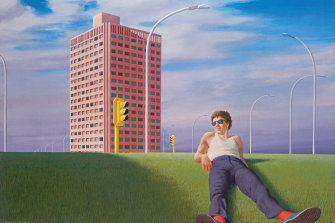 He was, at first glance, a realist, but after a few minutes in this exhibit, that label seems woefully inadequate. From the first paintings such as the lifeguards (1946) or Dressing gown (1947), Smart was looking for something different, seeking classic beauty in heaps of trash and debris. It was a conscious repudiation of those picturesque vistas of sheep and gum trees that passed for respectable Australian art. It also signaled an emphasis on composition that would become more and more obsessive over the years.